Director Tevin Tavares Shares His Vision Behind Season Two of 'Top Class'
At just 28-years old, award-winning director Tevin Tavares already moves like a seasoned pro in the film and entertainment industry—Forbes once wrote that he was "poised to follow in the footsteps' ' of the legendary Ryan Coogler. And yet, Tavares' resume speaks for itself: he's worked on films for Nike, co-directed Damian Lillard's first music video for his single "Dre Grant" and in 2020, he both wrote and directed the animated film for Springhill Entertainment's "More Than A Vote" campaign which featured Stacey Abrams, Dame and LeBron James. Last year, he made his directorial debut with the first season of 'UNINTERRUPTED's Top Class: The Life and Times of the Sierra Canyon Trailblazers'—a docu-series streaming now on IMDb TV that gives an all-access look into the whirlwind of the powerhouse program equipped with high school basketball stars such as Bronny James, Amari Bailey and Shy Odom.
'Top Class' is back for a second season and continues to draw back the curtain, revealing how the team grappled with the pandemic, fame, and the pressure of trying to win their third-straight Southern California regional title.
Telling honest, real and impactful stories that reveal the human experience has always been important to Tavares. "At the end of the day, it's all about human emotion and feeling. I think that we all as humans, whether you're Black, white, Mexican, Asian, I think we all can feel a way when we watch something [and] experience something. The biggest thing that I go into any shot, score, color selection [and] storyline is how do we create an experience where people can feel something, whether that's good or bad, or motivational, or sad. You may not remember certain scenes and what you watched, but you know what you felt at the end of watching it. Who knows how that could impact your life moving forward—that  might inspire you to go create something, [or] go visit your grandma who you haven't talked to in some years, or just send a text message to somebody who you haven't seen in a while, saying I love you.
"Those human pillars and those emotions that we face on a day to day basis is something that I put in my filmmaking, [and it] becomes relatable. That's my goal with any film that I touch." 
Tavares first made waves with a short film he created that was inspired by Kendrick Lamar's song "Lust." He was attending the University of Oregon at the time and had heard the song playing in his car one day and instantly was moved: he heard, repeatedly, what a Black man was taking on and having to deal with on a day to day basis. Tavares then hit up his friend Eugene and asked if he wanted to make a film. 
The powerful video instantly caught everyone's attention, including outlets like XXL and Complex. "People actually thought it was the music video for the song," Tavares says. 
SLAM caught up with Tavares last month to learn more about what led him into filmmaking, what it was like working with Dame, and what his vision was when capturing the most famous high school basketball team in the world. 
SLAM: We know you've worked on a number of different projects before 'Top Class,' but can you take us back to when you first started getting into filmmaking and directing?
Tevin Tavares: There was this commercial called The Ring Maker by Nike, and it was when LeBron [James] had won his first ring. Ironically enough, I broke my arm my senior year of high school and I really didn't know what I wanted to do with my life. I was kind of going through a moment where my grades were kind of so-so [and] I really know what I wanted to do moving forward.
Then, I remember I saw this commercial [of] LeBron going through trials and tribulations as he got his first ring… [When] I saw, "Just Do It" in the end, it made me cry. It inspired me and it made me feel a certain type of way. That's when I was like, 'Yo, you know what. I'm about to go to University of Oregon [and[ I'm gonna try to do work for Nike and make commercials. Eventually that led to doing filmmaking. 
And Ryan Coogler. We're from the same hometown and seeing what he did, going to watch Fruitvale Station, Creed and Black Panther, it's kind of like you're watching in the shadows of this big figure. I'm going to theaters that are packed with people like, 'Oh, man, I gotta go support Ryan Coogler because he's from Oakland, too.' You hear those rumblings [and] you see newspaper clippings, like 'Bay Area Filmmaker is Putting On'—when I saw that, it just added fuel to the fire, like, I could do that, too. Fortunately enough that is what's happening. When I see people talk about 'Top Class' in the Bay Area and they're like they're watching it, it's kind of reminiscent of when I was growing up, and I was seeing Coogler doing what he's doing now. 
SLAM: After the "Lust" short film dropped, how did you start working with Dame and other artists? 
TT: My best friend, Marcus, had just hit me up and was like, 'Yo, Tev, Dame is doing a music video in Oakland and he's looking for directors. You should do it.' And I was like, 'Man, he ain't going to pick me.' So, I just DMed his cousin, Brookfield Duece the Forbes article and he was like, 'Yo, let's do it.' 
I got a chance to form relationships with Dame from that video, and then from there, the next music video that I did was for Guapa Le for the film called, "Homeroom." I got to work with the legendary director, Pete Nicks and with Proximity, Ryan Coogler's production company.
SLAM: What was it like to see Dame in his musical element? 
TT: He's a genuine hometown hero. I think probably one of my most proud moments in the video was when people talk so highly about him coming back. And, when we filmed that there was a moment where he legit was in the back of a scraper and it was like a parade almost in a way. It's him and his cousin, and I literally watched kids run outside towards the scraper to try to get on camera. It was like a parade in Oakland, in his neighborhood. 
The one thing that I learned is that Dame is probably one of the most humblest, down to Earth, real people that I've ever met. He's always down—I remember I was like, 'Dame, I want to get on top of this roof for one shot' and he was like, 'Yo, let's do it.' That's the thing that was dope about working with him is he's always down for the art and when you work with people [like that], they'll do anything to make good art. Damian Lillard, him being an artist himself and realizing what things look like on screen, that was what we were able to create. I see that music video as a piece of art.
SLAM: That's fire. On that note, what was your initial vision with 'Top Class' and what were you looking to capture or show people going into season two? 
TT: "Even dating back to season one, we wanted to capture cinematic rage. Cinematic rage is, you have these young kids in season one that are rock stars. Season two wasn't about cinematic rage, it was about family ties and intimacy. I think that you take on certain themes every year—our first first year was like gang gang, it was Travis Scott [and] going crazy. [Going into] the second year, I remember writing in my notebook before every season, what's the theme? What do I want to capture? I was like, Okay, well, what's the theme? What do I want to capture? Around March I put intimacy and family ties, and "Family Ties" the she song hadn't even come out yet. I was still spooked by that because when I read it, 'I was like, dang, I wrote family ties?'
I think that this year, the theme of season two was more about emotion, not high flash dunks and crazy fans and all that. No, it's about intimacy, emotion and watching these kids go from boys to men. It's about watching a family come together through struggle [and] watching these young men deal with adversity. But how do they overcome that adversity? It's about watching these young Black men figure out this world and I think that's what we captured in season two.
In comparison to season one, it was more fun, but season two is less about having fun and more about the lessons that are needed to become a man.
SLAM: Were there any moments while filming that surprised you most? 
TT: I would say that the moment that I love the most is when Coach Andre says, 'We live in a one strike world.' In episode two he talks about why [he doesn't] let Amari get away with so much because he tells them that as a team, as young Black men, you live in a one strike world. 
I remember when I was sitting there doing the interview with him, I asked him what [that] meant and he started crying. He literally said that could [mean] walking on the wrong side of the block, getting pulled over by the police, just any little mishap, one strike. This polarizing figure, I watched him as he cried talking about that [and] it showed how much love he has for these kids. When you watch that, I think that's going to be a moment that really makes people sit down and be like, Wow, these young Black men really do live in a one strike world. That was probably the most rewarding experience, being able to interview him and witness him have that comfortability with me, as a young Black man, and talk to me about that and let his emotions out on camera.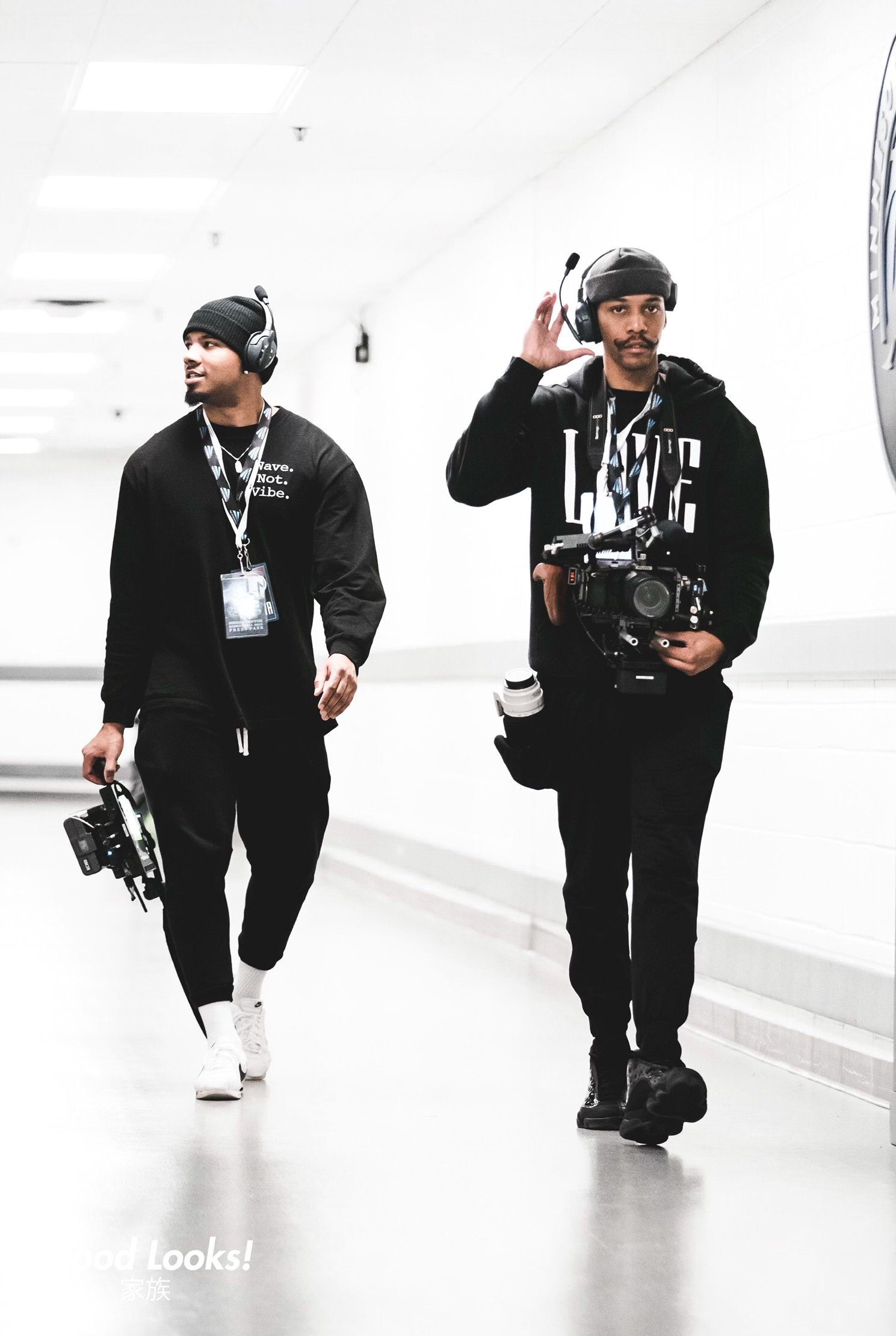 SLAM: With that, how did you get him and the players to be vulnerable and open up like on camera? 
TT: It's therapy. Sometimes people don't ask you those questions. And when you get asked those certain questions, it really makes you think. So there's moments where I interviewed Bronny or Shy or Amari and it [was] almost like a sense of like, let me collect my thoughts and actually think about how I felt in that certain moment. Sometimes when you let it off your chest, it's therapeutic. I could ask them a certain question and maybe it's been on their mind for months, and they've been thinking about it and they finally are able to let it out, [like] a sense of relief. 
I think filmmaking is a sense of therapy for myself, an actor [or] could be somebody who's a character in a documentary or a fictional film. You're able to let out and express emotions that you hold back. I think that's the beauty of the art of it.